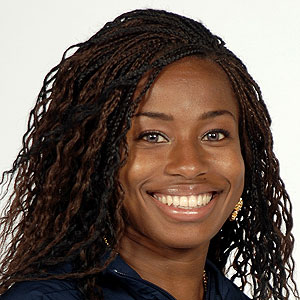 From ESPN.com
...
When Olympian [Barbara] Pierre went to see her parents in Orlando for Christmas, she had hoped her grandmother, Seliecene, would finally be there.
Pierre, 22, is an NCAA champion sprinter at St. Augustine's College in Raleigh, N.C., and a native of Port-au-Prince who represented Haiti in the 2008 Olympics. Her relatives have been immigrating to the United States over several decades, and one of the last to come was going to be her father's mother.
Pierre had been helping her father file paperwork and cut through immigration red tape for several years in an attempt to bring her grandmother from Haiti -- and it looked like that might finally happen in December.
But the process got delayed. And now no one can reach Seliecene, who lived on the mountainside in Port-au-Prince in a house with a garden where she grew peppers and roses.
"I called my mom this morning and asked, 'Did you talk to grandma,' and she says, 'Barbara, I called, there's no connection. It doesn't even go through,'" Pierre said.
As she watches televised images of crumbled buildings and people crying in the streets, and hears reports of collapsed schools and hospitals, she refuses to think the worst.
"I don't want to be sad. I don't want to think negative," she said. "In my mind I want her to be OK, so that's exactly what I'm going to think."
Pierre came to the United States when she was about 5 years old, so most of her memories of Port-au-Prince are from visits where she stayed with her grandmother. She remembers begging her mom to buy the fried plantains that vendors sold on the bus from the airport and the syrupy iced treats sold at the local markets.
But the country changed as she got older. The roads started to crack and fall into disrepair. Stories of criminals kidnapping Americans and holding them for ransom prompted her mother to leave her at home in Orlando on subsequent trips to Haiti. Pierre's last visit was in 1999, when she was a bridesmaid in an aunt's wedding. Her father, a banker in Port-au-Prince, finally joined the family in Orlando in 2004.
When Pierre ran for Haiti in the 2008 Olympics, she got to know several other Haitians and developed an even stronger appreciation for her home country, despite having been gone so many years.
"Haitians, they're very hard-working people. They're going to get back on their feet. I just don't know how long," she said.
"Haiti is a third-world country. Look what happened to [people in] New Orleans. They're in the States, and look how long it took for them to get back up. It's going to take a long time. They don't really have the tools we have, the tools to dig up bricks and pull people out. They have to do that with their hands."
Pierre points out that the Haitian houses built on mountainsides are not sturdy structures. When they crumble, they can fall down the hill on top of one another.
But not her grandmother's house. No, she can't think about that.
Where you can do your part