After I went to the
UM-OSU dual meet
last weekend, I was talking about it with my brother, who asked me if the name
Bob Ufer
meant anything to me.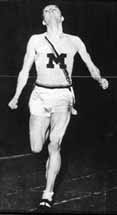 I must be the only sports fan in the whole country who would reply, "Sure, he ran track at Michigan. Is there any other reason I should know him?"
Ufer was the radio voice of Michigan football for 37 years, from 1944 (just out of UM) until his death in 1981. He was a character who would be hard to forget; he was as biased towards the Wolverines in his announcing as could be. Michigan's library has
some clips
, but this
YouTube piece
is apparently the best out there.
How good was Ufer at track? UM hypes him a bit by noting that he set a world indoor record for 440y in 1942. That was his peak performance; he ranked 21st on the yearly list in 1942 and 30th in 1943.
I can only assume Ufer attended UM-OSU dual meets, and if he ever announced them it must have been an interesting radio show.