Once a month or so I'll post some books you may find interesting. This month has a theme.
Nonfiction
Boston Marathon: The First Century of the World's Premier Running Event

Tom Derderian, 1998
Derderian, a 14-time Boston runner and a coach with the Greater Boston Track Club, gives a year-by-year summary of each race. Well, more than a summary--he actually tells the
story
of each year's race, which is a lot more than simply what happened. This is probably one of the dozen best track books in the English language.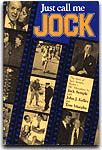 Biography
Just Call Me Jock: The story of Jock Semple, Boston's Mr. Marathon
Jock Semple (with John J. Kelley and Tom Murphy), 1982
Semple was the trainer for the Boston Bruins and Celtics for over 40 years, but he was also basically the lone organizer of the Boston Marathon for decades. He's best known for his famous 1967 run-in with Katherine Switzer, but was also a pretty darned good runner in his day. This book gives us a rare first-hand account of the era when road racing was a sport reserved for the blue-collar working man.
I found a copy of this book for $3 at a local used bookstore. It was signed by Semple, who passed away in 1988.
Fiction
The Long Run of Myles Mayberry
Alfred Alcorn, 1999
Where is the dividing line between obsession and insanity? Mild-mannered loser Miles Mayberry's life is falling apart around him, and to keep himself focused he decides he's going to run the Boston Marathon--and win it. A spot-on portrait of single-mindedness as well as the tired bullshit of the late 70s.